2017

Navajeros

Solo show at Factoría, Madrid
---
Navajeros is an exhibition that we present at Factoría de arte y desarrollo (Madrid, 2017) and that brings together the photographic record material of the project of the same name with which we won the Travel Grant from the Oxenford Argentine Art Collection.

Following the path of the films of Eloy de la Iglesia that take place in Bilbao, we look for the appropriate public places for these Young People. We then find a post-internet generation deeply involved in a culture of the left, of sexual liberation and without ties. Most of the portraits that we present were taken in Txirbilenea, an old factory in Bilbao taken by young people between 16 and 25 years old. A refuge on the edge of the tourist city, where a punk and queer culture flourishes.

The exhibition was completed with drawings and a tapestry that presents selected clippings from the Basque left-wing newspaper "Egin", material that we collate in the Azkuna Zentroa Library (alhóndiga Bilbao) and the Library of the Provincial Council of Bizkaia (Bilbao) and that presents a Radiography of Basque radical rock from the 80s and 90s.


---
︎
︎What is it: solo show
︎Where?: Factoría de Arte y Desarrollo. Calle de Valverde 23, Madrid, España.
︎When?: 2017
︎Curator: Guillermo M. Bermejo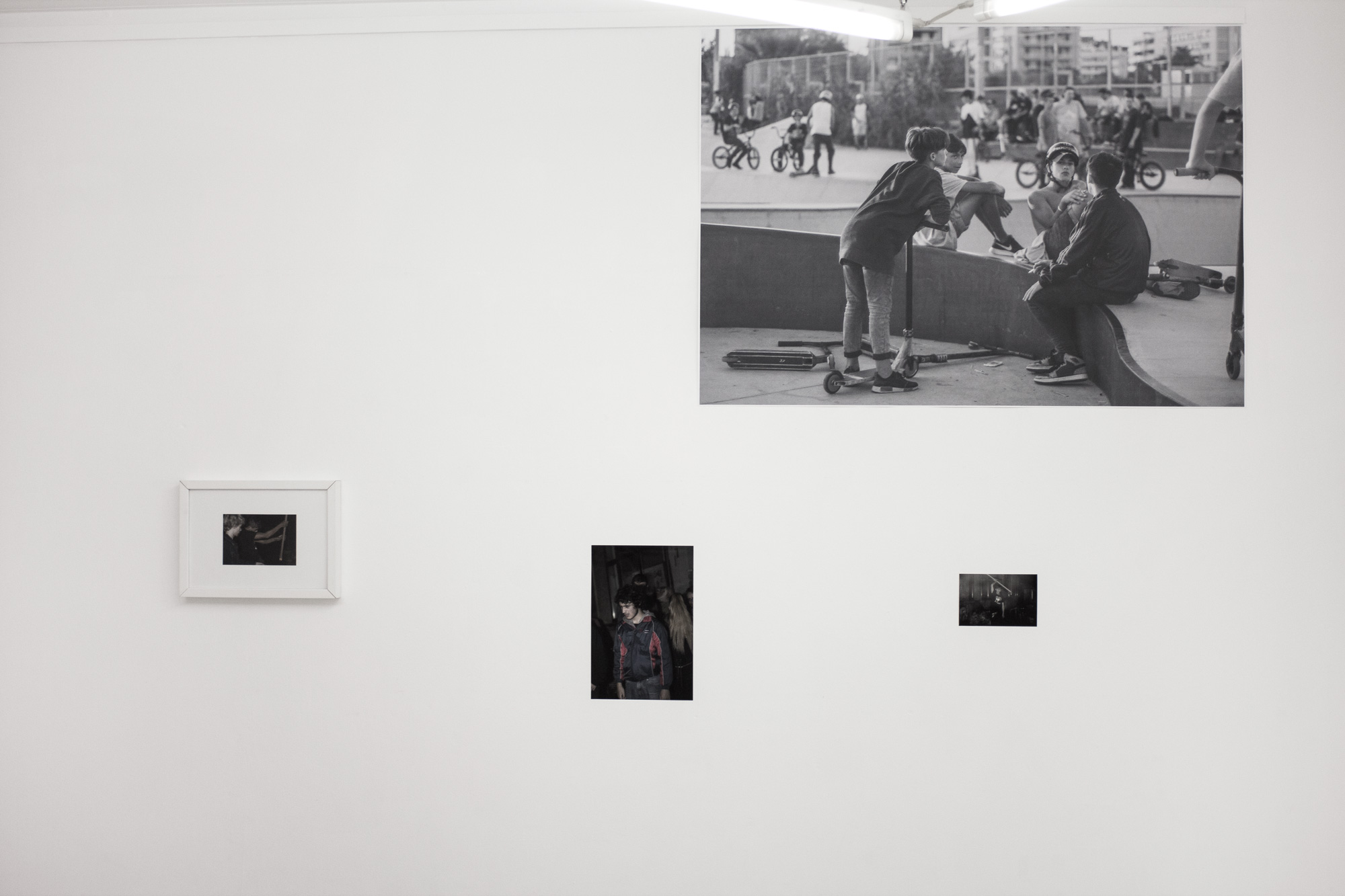 El manto del a virgen.
Tapestry. pieces of cloth intervened (drawings), oilcloth, rusty nails from Rastro, ceramic baby bought at the Madrid Rastro with a tricorn hat from the Civil Guard, old border of Bilbao students (from Rastro), small photo of a war plane (Rastro), several pages of the left-wing newspaper "Eguin"in which there are articles on life in prisons and juvenile delinquency (file consulted and scanned in the Library of the Diputación de Bilbao). Navajeros Series. 150x260 cm. 2017
S.T. (Urko)
Copy 1/3 Digital photograph.
40x60cm 2017
Iraitz
Copy 1/3 Digital photograph.
40x60cm 2017
---
Los Navajeros de Dante Litvak y
Fabro Tranchida.
por Guillermo M. Bermejo
Siempre me han parecido maravillosas las primeras escenas del "Pico 2", esa obra maestra, cruda y poética de Eloy de la Iglesia. La belleza rota de José Luís Manzano junto al delicado y dulce Urko. Ese caminar de los dos por un Bilbao tremendo lleno de ira política y droga. Recuerdo que cuando la vi de adolescente ya me llamó la atención la belleza de Urko. Aunque en aquel momento me impresionó más que los dos tuviéramos el mismo anorak azul que su tremenda y rápida muerte por sobredosis.
Llevamos décadas de injusticia social que está llevando a nuestro mundo a una radicalización de posturas brutal. La corrupción, la pérdida de confianza en las instituciones y en la justicia. Están trayendo de nuevo una juventud que rechaza todo lo establecido para encontrar nuevos caminos y nuevas formas de comunidades.
Fabro y Dante nos presentan, en esta increíble investigación, la búsqueda de identidad de unos jóvenes que han nacido rodeados de un falso bienestar y una corrupción sin límites. Ese mundo de los adultos enemigos, esas plazas que los gobernantes "higiénicos" construyen alicatadas hasta el techo, sin árboles, sin verde, para alquilarlas a empresas que venden productos innecesarios en ellas. Esos poderes que han destruido todo intento de poder vivir en la gran ciudad dejando que empresarios corruptos provoquen alquileres imposibles para fomentar parques temáticos para turistas amorales.
Vuelven entonces los punkis, los quinquis, los skinhead Oi, los skaters. Con sus pelos azules, amarillos, rapados. Una nueva juventud radical vasca, como han constatado los artistas en Bilbao, con una conciencia nueva y diversa. Y estos jóvenes, algunos extremadamente jóvenes, a los que de nuevo se les ha robado el futuro, toman fabricas abandonadas de la zona industrial en Bilbao creando nuevos hogares alejados de la mirada paterna o pistas de skate donde saltan y reivindican el verdadero arte, alejado de las salas llenas de nada, en la plaza del Macba de Barcelona.
Las exquisitas fotografías, dibujos y collages, de Fabro y Dante, nos hacen ver que no todo está perdido y que, dentro de una poética y belleza subversivas, surge una verdadera reivindicación alejada del falso "arte social" de artistas millonarios.
Aquí está la mirada política, el arte verdadero, la poesía nueva, los ojos del nuevo Urko muriendo en nuestros brazos por la sobredosis del neoliberalismo.
Guillermo Martín Bermejo
/ curator. 2017

---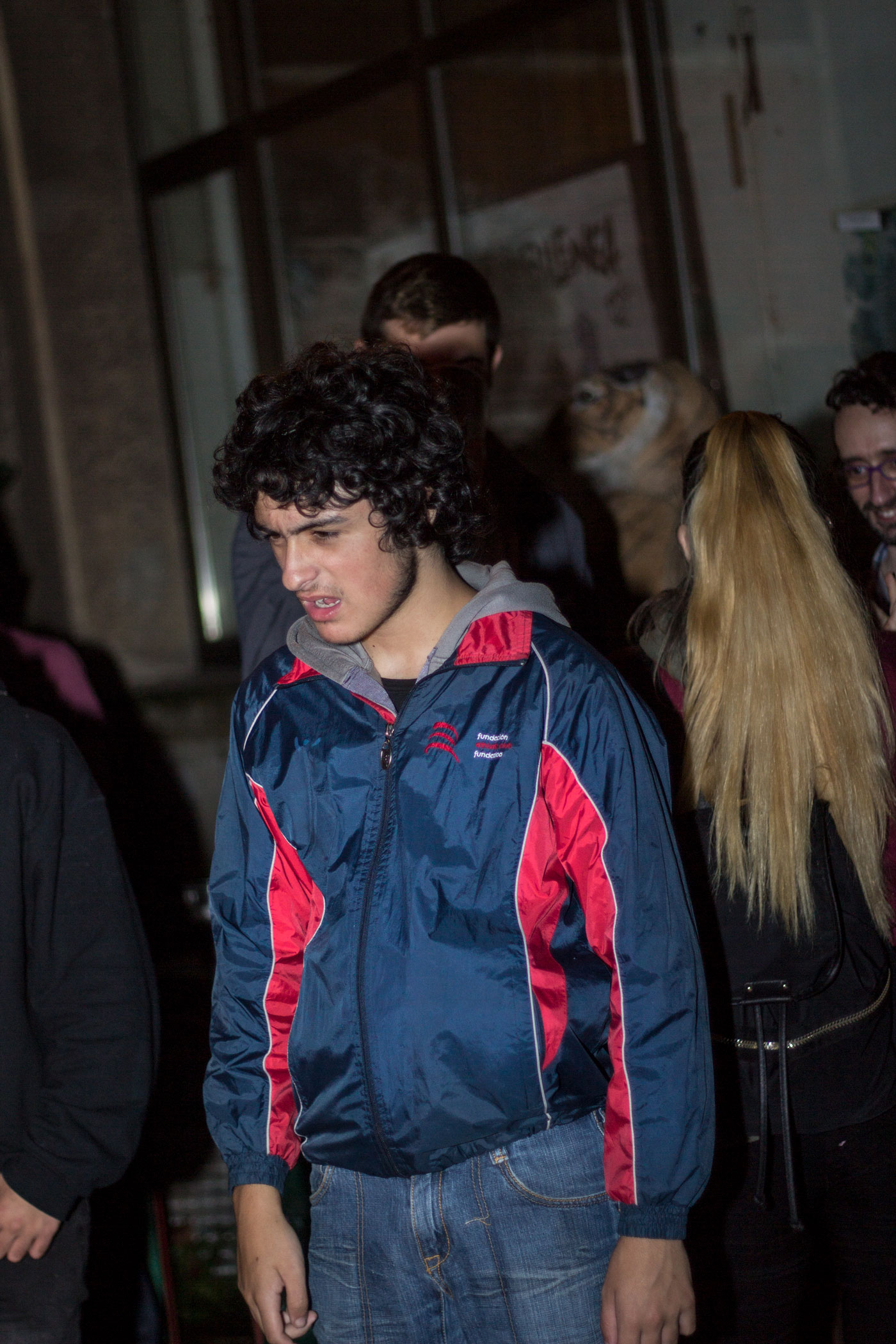 El Castañas
2/3 copy
Digital photography.
30x45 cm 2017
Pandila de la mar bella
Copy 1/3 Digital photograph.
40x60cm 2017
S.T. (Iraitz en Txirbilenea)
Copy 1/3 Digital photograph.
40x60cm 2017
Chavales jugando con fuego
Copy 1/3 Digital photograph.
40x60cm 2017
S.T.
Copy 1/3
Digital photograph.
40x60cm 2017