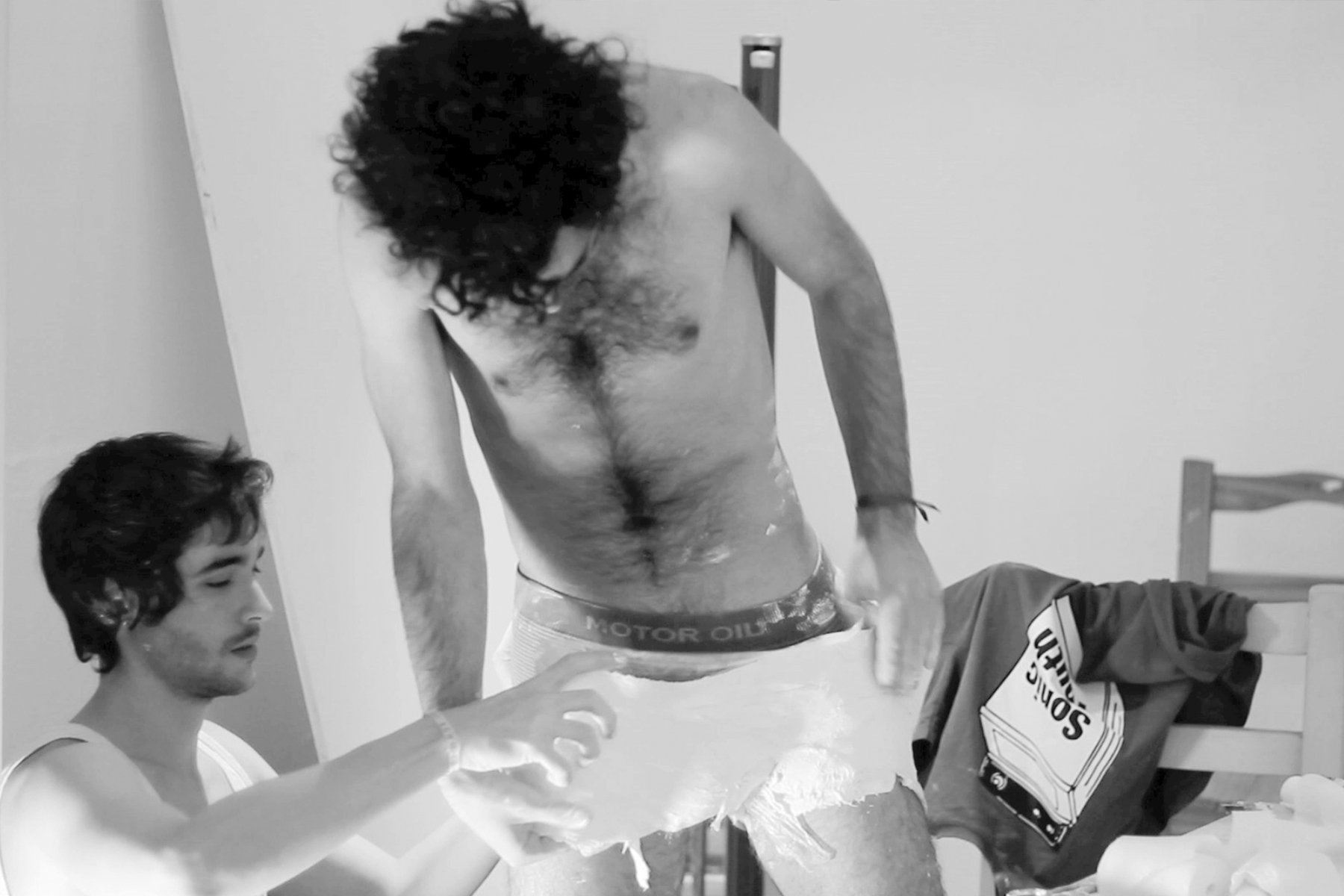 Moldes y quiebre
Mono channel. black and white. no sound. 4:00 2016
"Molds and break" presented at the exhibition La caduta de Los Picoletos. Buenos Aires, 2016.
(Video notes / body notes)
We are witnesses and archive of our work.
The piece bears the imprint of our wound.
We pose the devoured body.
Chewed, the body disappears in action.
The wound as the last remainder of the trace of being young.
The wound between what is required and what is veiled.
The images are as fragile as our duration. The molds are also copies of that fragility. Solid-looking, those casts are finally destined to be lost. Like bodies, which disappear with memory.
That plaster is copy, file and void.
Sculpture of a ghost break.
Today the material condition of the disappearance of the medium that supports the image is at stake. Every image "is" while its support lasts. That image is finally an image that will not last long.
The plaster is the imprint of what remains.
Footprints last as long as the body lasts.
The plaster is what remains without rest.
Vestige, vestigare, follow the trail.
The weight of the footprint.
The smoke without fire.
Fabro Tranchida 2016



(Video notes / body notes)
Somos testigos y archivo de nuestra obra.
La pieza posa la huella de nuestra herida.
Posamos el cuerpo devorado.
Masticado, el cuerpo desaparece en la acción.
La herida como resto último de la huella de ser joven.
La herida entre lo que se exige y lo que está velado.
Las imágenes son tan frágiles como nuestra duración. Los moldes son copias también de esa fragilidad. Con apariencia sólida, esos yesos finalmente están destinados a perderse. Igual que los cuerpos, que desaparecen con la memoria.
Ese yeso es copia, archivo y vacío.
Escultura de un quiebre fantasma.
Hoy está en juego la condición material de la desaparición del medio que sostiene la imagen. Toda imagen "es" mientras dure su soporte. Esa imagen es por fin una imagen que no durará demasiado.
El yeso es la huella de lo que queda.
Las huellas duran lo que dura el cuerpo.
El yeso es lo que resta sin resto.
Vestigio, vestigare, seguir la huella.
El peso de la huella.
El humo sin fuego.
Fabro Tranchida 2016


Las esculturas expuestas en la exposición La caduta son las réplicas que los picoletos realizan de sí mismos en la pieza de video "Moldes y quiebres".